A trial version of StatEL can be downloaded from the Contact Us Form
If you would like to download a trial version of the StatEL statistical software, you must first fill out the Contact Us Form. You will get obtain a link to download the software.
The trial version is available in both English and French. Windows users are required to have Windows 98, 2000, XP, Vista, Seven 32 or 64-bits with Microsoft Excel installed.
The trial version allows unlimited use, but will only allow only up to 10 data points for tests on quantitative data and unlimited tests for qualitative data.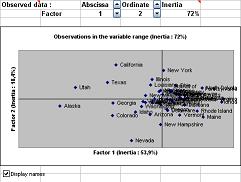 ---

Content of Version 2.5:
Statistical plot on Excel :

boxplot centered around mean or median

real histogram

cumulated distribution
ternary plot
3D scatterplot
---

Content of Version 2.4:
Bland & Altman test :

single or duplicate data
calculation of bias
limits of agreement
confidence intervals


Posthoc tests :

LSD test with correction of Bonferroni or Sidak

Tuckey's HSD test

SNK (Student, Newman & Keuls) test
Ryan test
Dunnett test
---

Content of Version 2.3:
Logistic regression analysis :

quantitative and qualitative covariates

automatic construction of design variables

gestion of ordinal variables through method of nested design variables
selection of variables through Stepwise method

analysis of model's coefficients through test of Wald

calculation of odds ratio and their confidence intervals (95%)
log-likelihood and test of maximum likelihood

test of Pearson's Khi², Deviance, Hosmer & Lemeshow

diagnostic of the calculated model

pedagogical comments spread all over the results spreadsheet to help you in interpretation of logistic regression
...

---

Content of Version 2.2:
Ability to display a data set on a 3D plot on Excel with following functionalities :

rotation on the 3 axes
projection of points on the 3 planes
labels of points
zoom on the plot
...
---
Content of Version 2.1:
Serial tests on many data set (without repeating data selection), available for :

descriptive statistics
normality analysis
outliers
comparison to a theoretical mean
Student t-test for independent groups
Student t-test t for dependent groups
Anova for independent groups
Anova for dependent groups
simple linear regression / Pearson's Correlation
test of Mann & Whitney
test of Wilcoxon
test of Kruskal & Wallis
test of Friedman
Spearman's Correlation